PARTIAL AND FULL DENTURES
If you have multiple missing teeth or if all of your teeth are missing, partial or complete dentures may be the best solution to restore your smile to a functional and comfortable place.
Missing teeth can create problems with speaking, talking, and having the confidence to smile. Fortunately, partial and complete dentures are reliable and one of the most common methods to solve this problem. Today, partials and dentures look better than ever. You may remember the days of your grandparents' oversized, bulky false teeth, but times have changed and advancements in techniques and materials allow us to provide realistic looking options for our patients.
Tooth Replacement with Partial Dentures
Our first goal with partial dentures is to provide the most comfortable and functional tooth replacement for you. Partial dentures are for patients who are missing multiple teeth, but still have some natural teeth they plan on keeping.
We will create your partial dentures to work with your natural teeth as anchors to help hold them in place. Keeping as many of your natural teeth as possible is ideal so that you can retain precious jawbone and maintain the integrity of your facial structure and bony ridge.
Partial dentures will also look like your natural teeth. In our Iqaluit dental office, we design them to blend in so that your dentistry does not stand out or draw attention. Dentistry should complement, not take away from your smile.
Sometimes the fit of your partials may change over time and you might need an adjustment. This is expected, so please call us to set up an appointment. Our dentists will make adjustments and repairs so that you stay comfortable.
Comfortable Full Dentures
If your dentures do not fit properly, they can move around in your mouth, creating sores and causing them to fall out while you eat and talk. With complete (full) dentures, how they fit relates directly to how well they function and how comfortable you feel.
Our dentists work with your bone structure and mouth anatomy to make dentures that fit well, look great, and last a long time. Each patient is different, and we spend the necessary time and attention to detail to make sure that your upper and lower dentures work in harmony so that you eat and maintain your health with nutritious foods.
When you come to us wanting new dentures, we will discuss how you want them to look. Full dentures allow you to make choices regarding the appearance of your new teeth. While function is always our first concern, we know you want to look great, too.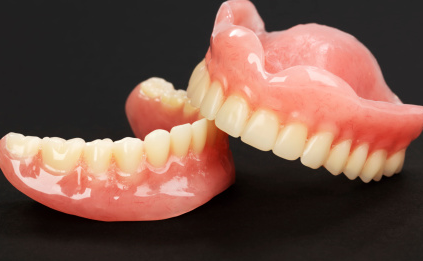 Call Our Office Today
Whether you need your first set of dentures or you need to replace an old worn out denture, call Iqaluit Dental Clinic today. Our dentists have the skills and experience necessary to make life with dentures easy and enjoyable!