IMPLANTOLOGY
If your damaged or decayed teeth need to be replaced, dental implants are a great substitution. Dental implants are nanostructured titanium screws that are embedded into the jawbone
Dental implants, for over half a century have supported reinforcement and porcelain dental restorations such as:
Partials and Bridges
Crowns
Dentures
The success rate of dental implants is over 95% with the proper establishment and healing. Dental implants are the next best thing to natural teeth for function, structure, and presence.
Dental Implant Preparation
An initial consultation and in-depth exam from our perfectionistic dental team is required before surgery. During this consultation, digital x-rays of the teeth are taken to help us develop a unique dental implant surgery plan that is based solely around the patients required needs.
Once we have discussed that dental implants are a good option for the patient, we will then go ahead and schedule a dental implant procedure. We recommend anesthesia during this procedure to promote comfort.
Components of Surgery
Dental implants are done in multiple steps and healing periods in between, and to most patients are life changing. For dental implants to be successful, osseointegration must occur. This is the fusing of the jawbone and metal dental implant. The implant will then act as a natural tooth root. Even with daily activities, forces of chewing, and eating the dental implants hold the restoration in place permanently.
Bone Grafting
The jawbone frames the face and holds the teeth in place. Bone loss can occur for many different reasons, including but not limited to trauma, genetics, and periodontal disease. Patients must receive a bone graft before dental implant surgery if the patient is lacking satisfactory bone density. Although bone grafting is not a choice, the source of the bone tissue is based on personal preference and the comfort level of the patient.
Bone grafting increases the height and width of the jawbone. Some standard regenerative bone grafting practices are:
Sinus lift (or elevation) increases the height of the maxilla (upper jawbone)
Jawbone expansion adds volume to the mandible (lower jawbone)
Dental Implant Surgery
If needed, the remaining tooth and tooth roots are extracted, if need be, this is phase one of the dental implant surgery. An incision is made in the gum line to expose the jawbone, our oral surgeons then create a hole in the bone for the titanium implant. A temporary prosthesis is placed in the space above the gums, if possible. This temporary prosthesis immediately restores the pleasant appearance of the smile while osseointegration occurs.
After osseointegration, the permanent restorations will be fitted during the second phase of the implant surgery. The final process if quick, and painless, revealing a natural and functional smile.
Recovery Period
Keep in mind dental implants can take up to a year to completely heal. Our intelligent dental team will provide you with clear instructions on how to deal with any issues that may occur, (pain management, infection, and proper diet changes) during the recovery phase.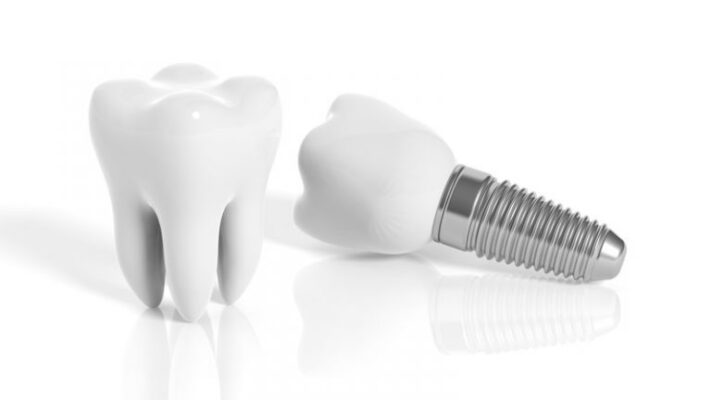 Call (867) 979-4438 to schedule an implant consultation in Iqaluit if you have any questions or concerns regarding dental implant surgery