DENTAL VENEERS
Many of our patients express an interest in having that perfect, youthful smile we all admire on television. Achieving such a beautiful smile may be easier than you imagine. When it comes to cosmetic dentistry, dramatic changes are possible when patients opt to have dental veneers.
Dental Veneers and Aesthetics
The most common use for dental veneers is to make cosmetic enhancements to your smile. If your teeth are crooked, short, worn down, chipped, discoloured, or dark, dental veneers may be the perfect option for you. They fit over the top of your natural teeth, disguising any flaws.
Porcelain veneers help dentists to address many of these cosmetic concerns. Our dentists are highly skilled in the cosmetic dental arts and look forward to speaking with you about the changes you would like to make.
You control the appearance of your dental veneers. We will spend time talking to you about the types of smiles you find attractive and we will also share insights about how we can make your veneers function well and look great.
Did you know that men and women often have differently shaped teeth? Did you know that different teeth colors look more natural with different complexions? Did you know that teeth that are a millimetre too long or too short may not function properly? At Iqaluit Dental Clinic, our dentists know how to make your new smile work properly and look natural.
How many veneers you need will depend on the shape of your smile. If we can see your posterior teeth when you smile, how do they look? We might recommend whitening or other procedures to help you get the most out of your cosmetic dentistry. Once you have an evaluation, we can make a treatment plan outlining different scenarios.
Dental Veneers for Improved Function
If you had an accident that caused your teeth to break across the front, you might benefit from dental veneers to help improve your appearance and function. Your teeth work together, and when damage occurs, your entire smile can become unstable. Dental veneers help to lengthen your teeth so that you can chew properly and maintain the integrity of your occlusion (how your teeth fit together).
Longevity of Dental Veneers
Often dental veneers can last ten or more years if you take care of your teeth and gums. Because we need to prep the surface of your tooth in order for your veneers to fit properly and adhere permanently, you should know that this procedure is not reversible. You must commit to a lifetime of veneers once you make the decision to have them.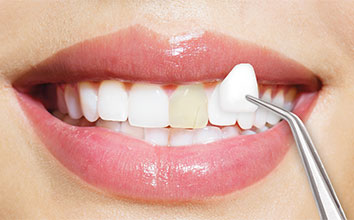 Call Us Today for Your Cosmetic Evaluation
If you want to talk about the possibility of dental veneers of improving the appearance of your smile, call our Iqaluit dental office today to set up a consultation with one of our professional, talented dentists and learn about all of the potential options that can help you achieve the smile you have always wanted.