Dental Digital X-Rays
The use of x-rays for medical and dental purposes began in the late 1800s. Major advancements in radiography have decreased radiation and increased resolution, making them safer and more accurate.
In fact, digital x-rays reduce the level of radiation from traditional film x-rays by up to 80%. Considering dental x-rays are among the lowest radiation x-rays to begin with, that makes them remarkably safe and still one of the best tools we have for the diagnosis of common dental conditions such as infection and decay.
Different Types of X-Rays
Different x-rays serve different purposes. We need different "snapshots" of your teeth in order to diagnose conditions that could cause pain or tooth loss in the future. It may seem like we take a lot of dental images, but our process helps us to include all of your teeth.
Periapical View
Periapical x-rays (PAs) allow dentists to see your tooth from the crown (top) to the tip of the root. This view is extremely useful in diagnosing trauma, such as a cracked root, and infection. These x-rays give us a full view of your entire tooth and allow us to measure bone levels and look for any cysts or growths that require a biopsy. If you have a dental emergency, often this x-ray helps the dentist diagnose the source of your pain.
Bitewing X-Rays
When you have routine x-rays at Iqaluit Dental Clinic, they will most certainly contain bitewing x-rays. Bitewings show only the top of your tooth and allow for accurate diagnosis of decay, especially between teeth. Bitewings show a more detailed view so that we can catch decay while it is still small. We usually take bitewings on posterior teeth.
Full Mouth Series X-Rays
Full mouth x-rays are necessary periodically to check all areas of all of your teeth. Since the radiation from digital dental x-rays is extremely low, you do not need to worry about the safety. We take precautions to protect you from radiation and only take the x-rays necessary for diagnosis.
How Many X-Rays Do You Need?
How many x-rays we take depends on a couple of factors. If you see us for an emergency, we will focus on the area that is giving you trouble. Once yearly, or so, we take standard x-rays to catch any early decay or other conditions. Periodically, we recommend a full mouth series so we can look for problems such as bone loss, abscesses, or tumours.
Rest assured, we will only take the necessary images and keep you informed about our findings.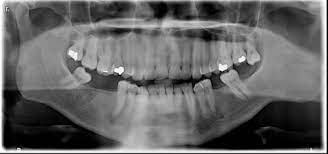 Call for Your Next Diagnostic Appointment Today
Do you need to make your next cleaning and exam appointment? Call our Iqaluit dental office to set up an appointment with one of our professional, compassionate doctors. We look forward to helping you maintain a healthy smile for life.