DENTAL CROWNS AND BRIDGES
Damaging or losing your teeth can be a traumatic experience. At Iqaluit Dental Clinic, our dentists focus on solutions that restore our patients' teeth successfully. We know that your teeth are important to your health and appearance. When you sustain damage from normal wear and tear or from an accident, we encourage you to call right away so that we can help to restore your health as quickly and painlessly as possible.
Dental Crowns Repair Teeth
One of the most common calls we receive at our Iqaluit dental office is that one of our patients broke a tooth when they bit into something. From olive pits to crusty breads, hard foods combined with the force of your jaws can create a chewing catastrophe. Not only can a cracked tooth cause pain, but it could split and that means a possible dental extraction.
We do our best to address emergencies before they progress. Dental crowns can protect your teeth so that we can prevent tooth loss.
Dental crowns (sometimes called caps) are protective covers that fit over your natural tooth. They help to hold your tooth together and stabilize it. They also create a barrier, absorbing some of the force from chewing. That way, your compromised tooth is not taking on that day-to-day pressure without support.
We customize dental crowns for each patient to make sure that they fit properly. It typically takes a couple of appointments to receive your dental crown. At your first appointment, we will prepare your tooth and place a temporary crown on your tooth. We send your dental impressions and preferences such as color, shape, and materials to a trusted dental lab for the creation of your dental crown.
Once we receive it back from the lab, we will schedule your final fitting and adjustments to ensure the perfect fit. With proper care and diligent oral hygiene habits, your crown can last a long time.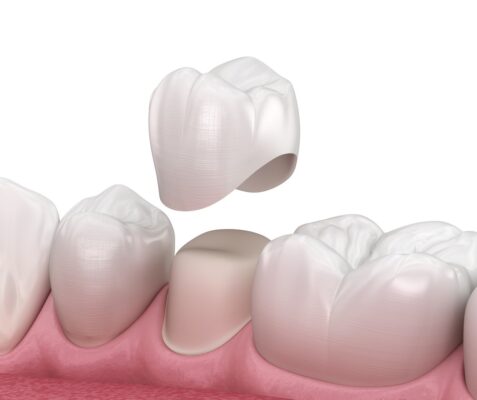 Tooth Replacement With Dental Bridges
Are you missing a tooth or teeth? One of the most common tooth replacement restorations is a custom dental bridge. We can create a special crown called a pontic to replace your missing tooth. Your new crowns stays in place with two other specialised crowns called abutment crowns. They provide the anchor for your new prosthetic tooth.
Dental bridges, much like crowns, are custom designed just for you. We want to make sure they fit great and look great, too, so that you can eat and smile confidently. Being able to eat what you like is important in maintaining your nutritional health.
Call Us Today
Call us or visit us today for any emergency to be able to assist you with our highly dental professionals.